then you need to go here: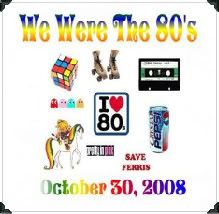 ">





and join the fun. The hostess' post has me in tears right now, I'm laughing that hard.





In the 80's I wanted to grow up to be either:









http://www.youtube.com/watch?v=20BZID081Vk




or
http://www.youtube.com/watch?v=quzY7ONePM4
The story of my first "Cabbage Patch Kid"...
One wonderful Christmas in the 80's, Santa brought me a "Cabbage Patch Kid". There was something different about this cabbage patch kid. I couldn't pin point it...she was just a bit off from other's I'd seen. But I loved her anyway, and was sooo happy to finally have one of my own.
She went everywhere with me, and at night time she cowered under my blankets with me, hiding from the boogie man. (or the giant green big bird - a story for another day) We were inseperable, and I was soooo happy to finally have one of my very own. Until the day my parents told me there was something wrong with her and that I couldn't touch her anymore. That she would make me sick. I was crushed. How could this happen? Why? Whyyyy???
Because she was fake. Santa brought me a FAKE Cabbage Patch Kid. A TOXIC fake cabbage patch kid.
I remember my Mom putting my doll into a big plastic bag...and I slept with her one last time and then went with my parents to a store where I had to hand her over to the lady behind the counter. Santa got us real ones the next Christmas, but I never forgot my girl in the bubble.