I made my Thursday morning run outside to make sure I hadn't left hoses, tools, bird feeders, etc. out in the lawn and to pick up any fallen grapefruits or oranges before the lawn guy comes by. He does not like it when there's stuff in his way needless to say. It's been too cold to do anything out there (we're talking 60's here people, I'm dying...I remember when this was warm...now I keep my a/c at 82, and that can be chilly sometimes...) so all was clean and clear. Except for the lanai. It's filthy. Gross. Nasty. I'm ashamed of myself. I've been telling myself I'll get to it. It's been a year at this point. Atleast. I jumped on to the computer for a little inspiration courtesy of RateMySpace and came across this one:







It's got the square lines of my pool. Mind you mine are on a much smaller scale. Mine is probably 1/5th the size of this home's. Maybe 1/6th... I decided check out zoegirl's other rooms and then WHAM! There it was. The end all be all of laundry rooms. Do you have any idea how many single socks awaiting their never to be found mates I could fit in this bad boy? Take a gander:






I could sit at that desk and create excel spread sheets for the socks categorizing them by color, length, material, when they were last seen together...you get the idea. That granite looks like it'd be a delicious flavor if it were ice cream. Something with caramel. And fudge. I think that classifies it as "yummy".
I can't belive I'm doing this...but here's my laundry room. Keep in mind that topiary print was from my last house and I haven't been able to toss it yet...and I plan on refacing those cabinets someday...and...and...LOL...can't believe I'm putting my "dirty laundry" out there. Isn't the light fixture fabulous? 5 *'s right? LOL!!!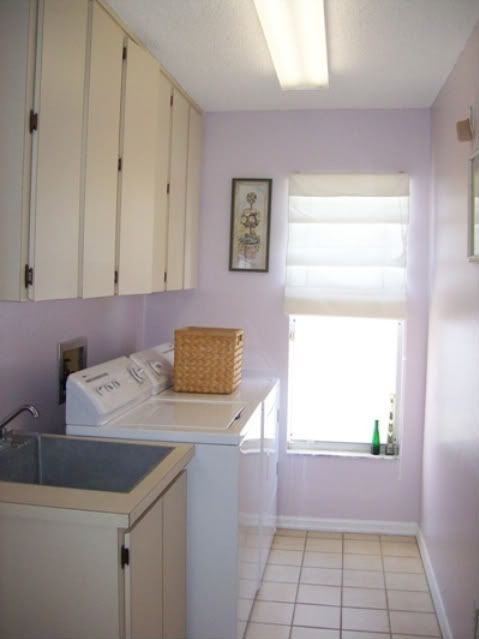 Okay, back to house cleaning so I don't scare the little children who'll be coming to the door tomorrow with the interior of my home. Either that or I'll have to put the bowl outside so I don't have to open the door, haha!